Facing the challenge of society, politics, environment and economy, consumers will gradually develop a habit of daily healing in 2022 and 2023. The technology development of engineering product, food and materials is under a trend of commercialization, calling for protecting natural resources and starting a supernatural future. And with the rise of health awareness, promoting mental and physical health and exploring hi-tech products have become the essential topics. At the same time, consumers are also paying attention to cost-saving and decreasing waste, which makes recyclable and durable products popular. The emergency of slow handicraft forces all the industries to break through the stereotype and provide innovation, including the fabric textile industry. The additional value of fabric is important in this season. Healing and delighted fibers bring new functions and wearing experience to men's and women's A/W fabrics, which leads the development of fabric to a natural, eco-friendly and future-tech trend direction. The report will summarize and refine the keywords of latest A/W 22/23 fabric from the aspects of fiber, function, craft technique and textural variation.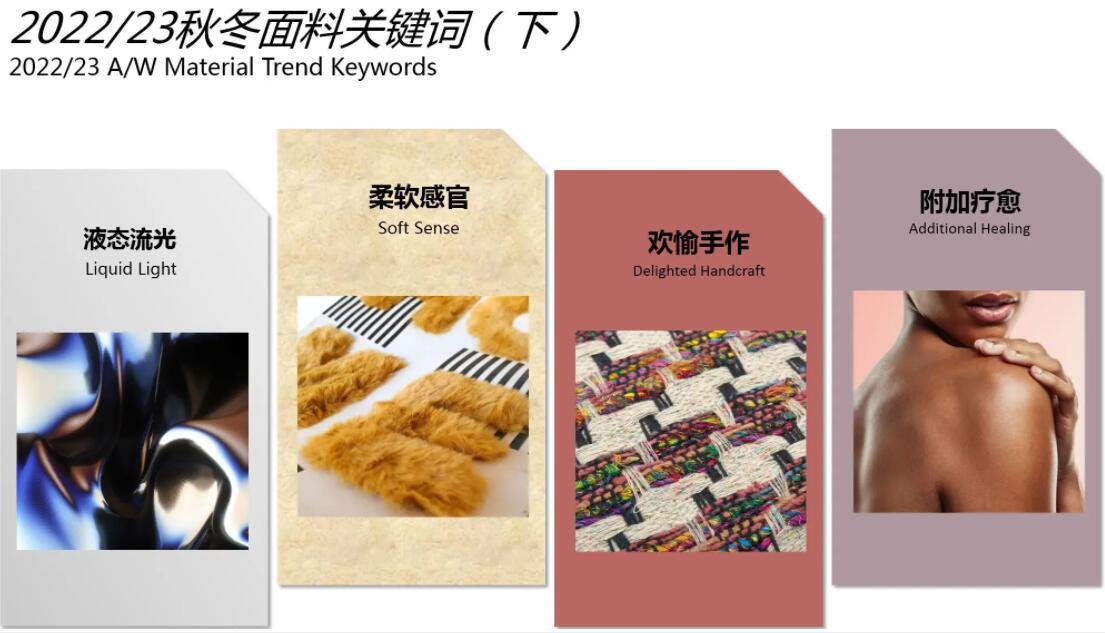 Lustrous fabric made by liquid light yarn is developed from lustrous Nylon into ultrafine lustrous polyester. Applying the double-structure warp of cotton fabric can present various foam textures. The combination of multiple crafts becomes the development highlight of this season. Bright film, light foil printing and 3D embossing are applied to further increase the lustrous texture of fabrics.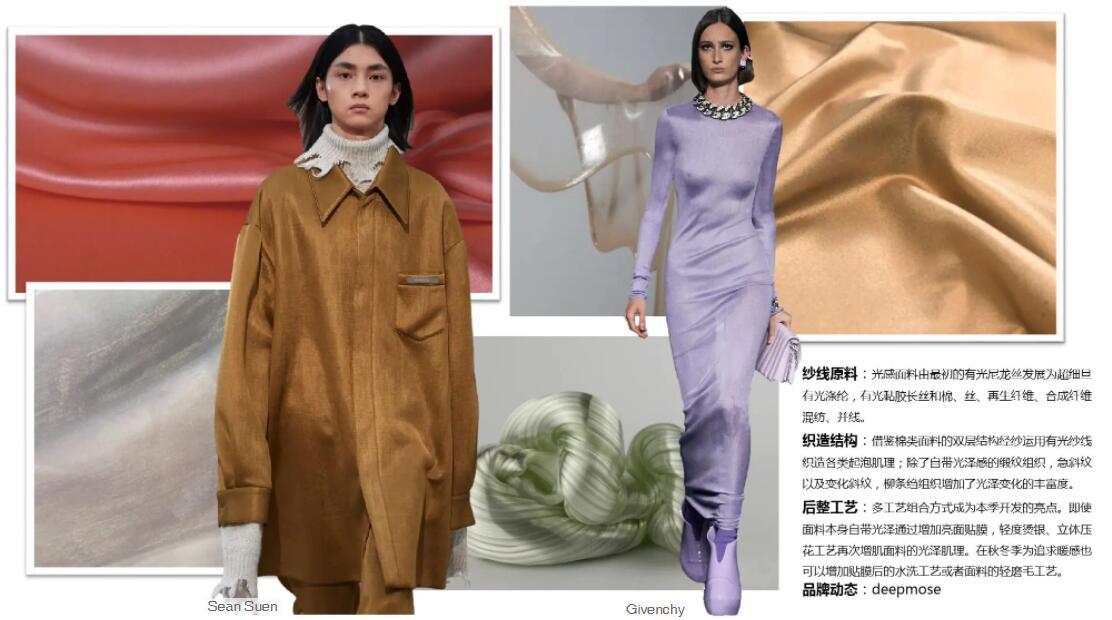 Plain fabrics with different thickness, natural cotton-linen plain fabric, variable plain fabric, twill fabric, high cost-efficiency chemical fiber fabric and eco-friendly chemical fiber fabric are the ideal recreated base cloths. Lustrous materials are added into the coating auxiliary to present various lustrous coating fabrics.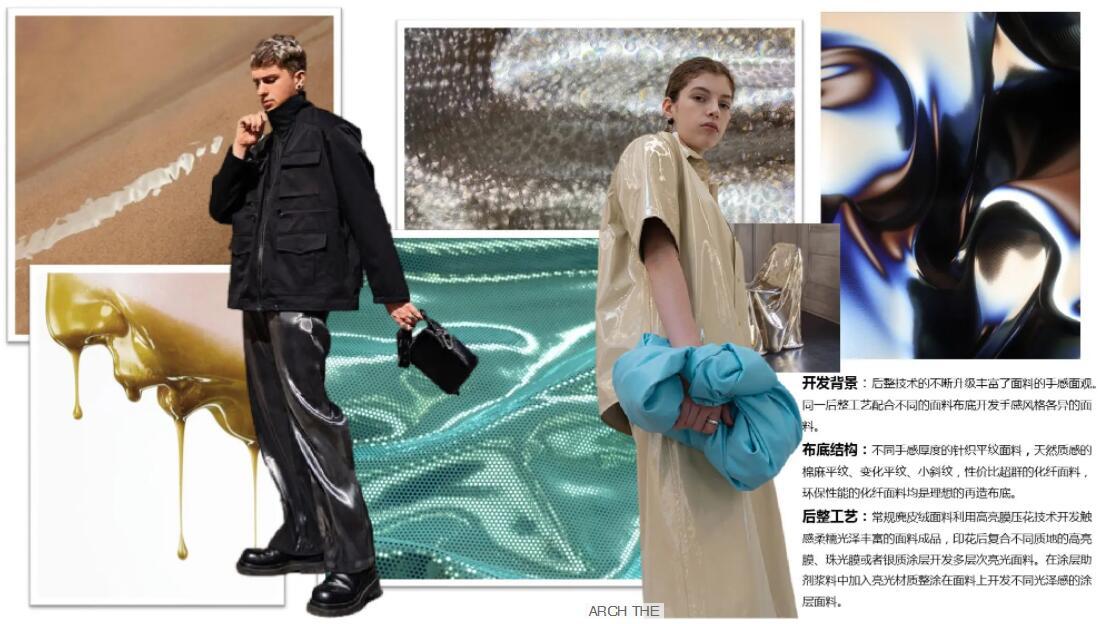 Eco-friendly gel acrylic staple, thermal antibacterial acrylic fiber, recycled semi-dull FDY & DTY, bio-base polyester fiber and wool are the best choices to develop A/W warm and gentle plush fabric. It is suitable for warp-knitted three guide-bar structure, two-color jacquard structure and colorful weft-knitted jacquard structure.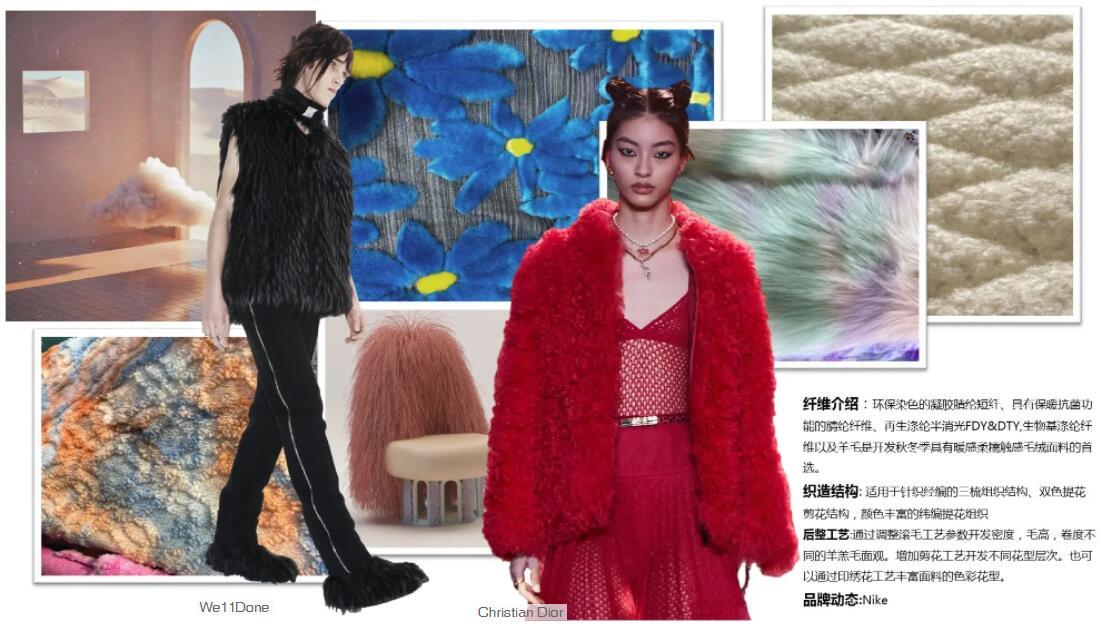 For a full report, pls visit https://www.popfashioninfo.com/details/report/t_report-id_10323-col_127/