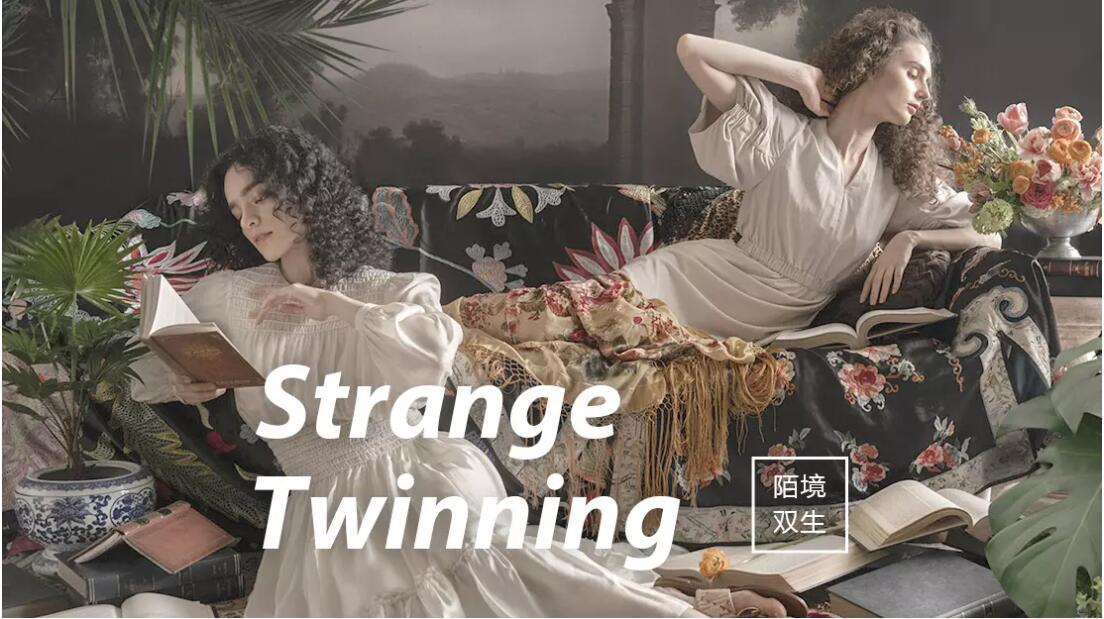 This "hybrid age" connects people with mixed identities, different backgrounds, status and cultures. The young generation look at the world through their immature ethereal dream, and meet another unique themselves. Although they are strangers, they have connected spirits. Isolated from the public aesthetics, they are making selections between sub-culture and mainstream. Their anxiety of "mixed identity recognition" and expectation of being approved by the mainstream cause the experiences including anxiety and hope, pain and joy. The theme Strange Twinning applies handcrafted decorations and reuses wasted synthetic materials to underline the "sweet, beautiful and quirky" style through mix&match. Thus, this report takes sweet stretchy lace fabric, colorful handmade blend fabric, girly sheeny chemical fiber fabric and ethereal sheer fabric as the main point, inversely influencing the mainstream by their interpersonal cultures through content socialization and private domain customization.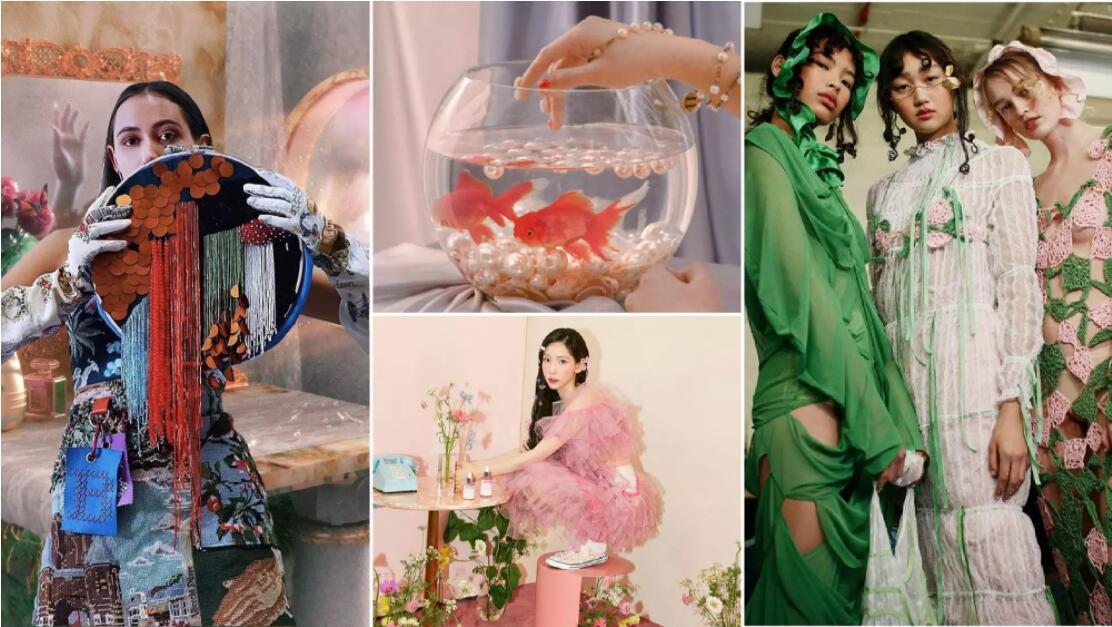 Strange Twinning elaborates people with different backgrounds understand with each other and approach spirit resonance. The crash of multiple cultures and intense palette express the passionate yet complicated sentiments of youngsters, lively, playful and bright. The elegant and gentle Lilac Sachet is combined with gauze texture. The lightweight ethereal sheer presents a girly warm and soft environment, which just likes the spreading lilac fragrance in the summer air. The bright Ming Green in S/S is full of retro feeling, which heals the puzzle of immature and worried girls and provides an unreal oasis. Its vintage sense perfectly fits people's pursuit of old times and lightens the hope. The colorful and playful style sends out lively summer atmosphere.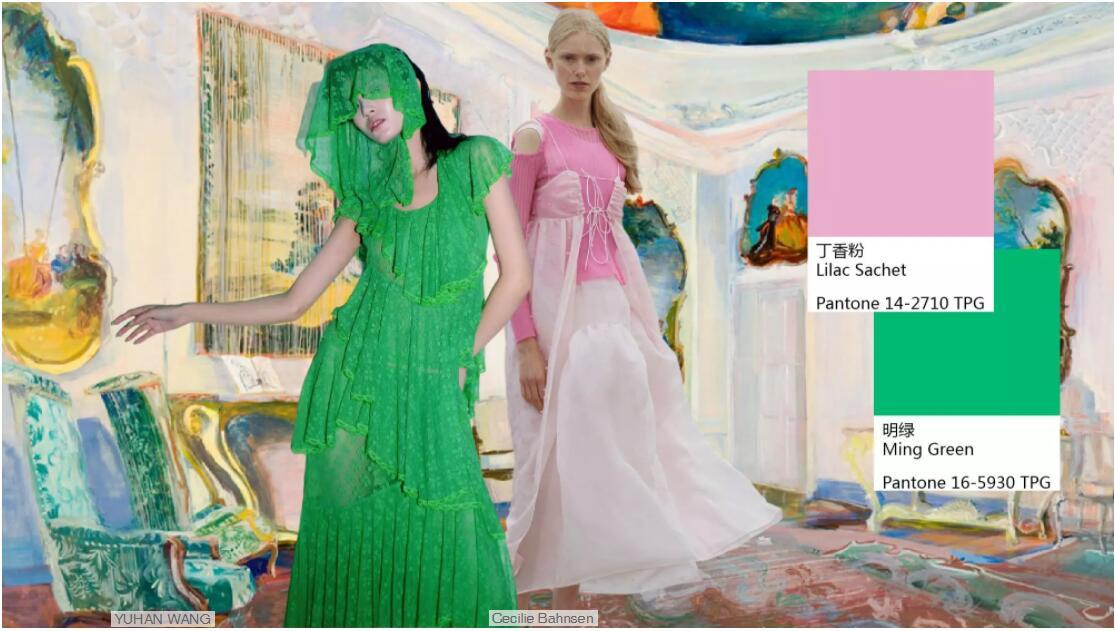 The theme Strange Twinning brings a crisis of hybrid identity to the younger generation. They are busy with virtual social networks with an identity of private-sphere uploader, express a "natural vagrancy" attitude, pay for their hobbies and ideas, and become the major consumer group of coterie economy. They also have confidence and action toward the young culture, contrasting romantic, weird ideas with mainstreams. They have become the pioneers of post-figurative culture, who reuse wasted materials, mix&match multi-occasion clothes, spread to the public through social medias and break through the traditional public recognition. Thus, this theme will interpret the mental concept and niche fashion trend influenced by the post-figurative culture through sweet stretchy lace fabric, colorful handmade blend fabric, girly sheeny chemical fiber fabric and ethereal sheer fabric.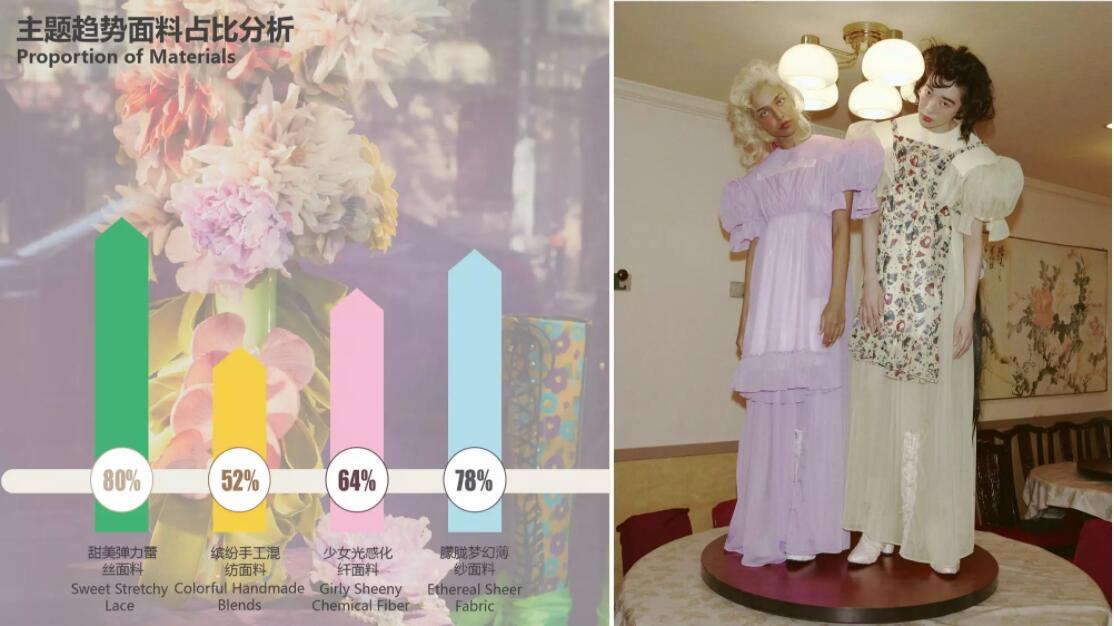 Strange Twinning underlines the weird imagination of girls. The sweet stretchy lace fabric sends out romantic and pure sense, and presents invisible loveliness and sexual appeal with unknown mystery. Retro patterns and flower elements are applied on stretchy lace fabric to endow the young fashion group with brand new dressing experiences. The young culture is inversely influencing the mainstreams, which has been a main trend of S/S 2022 lace.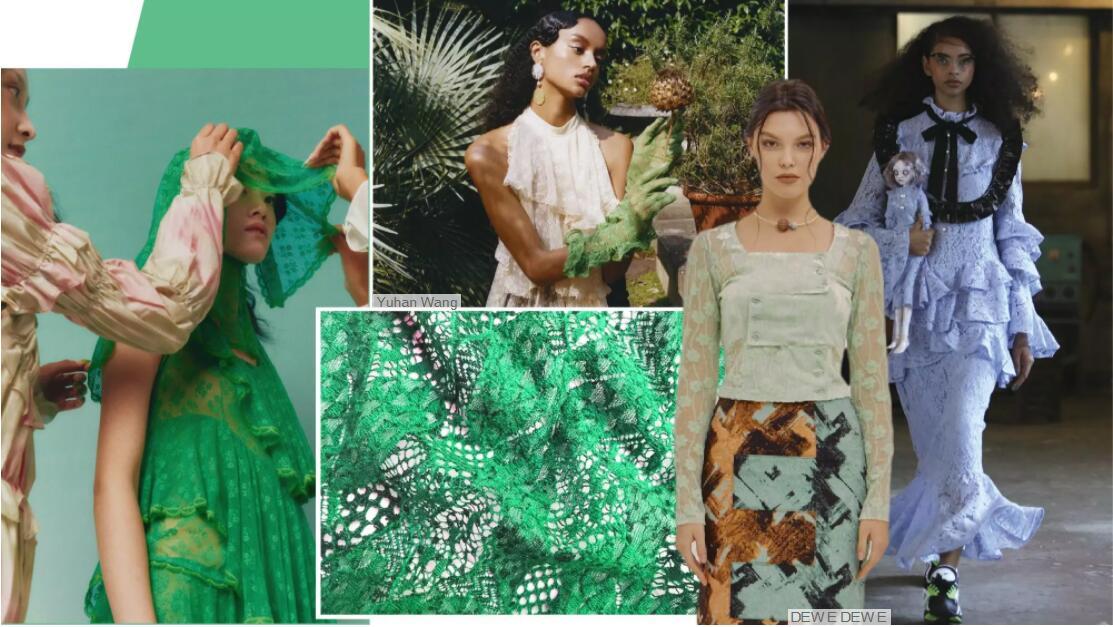 For a full report, pls visit https://www.popfashioninfo.com/details/report/t_report-id_9836-col_127/